A steakhouse restaurant in the heart of Usk with great wines.
We are steakhouse restaurant & bar in the centre of Usk, Monmouthshire. We are also available for privite event hire and a great venue for small group celebrations and festive gatherings.
We are the sister venue to the award winning Greyhound Inn in Llantrissant 1 mile up the road.
We have 5 stunning en-suite double rooms, take your stay in Usk to the next level by booking a table in our restaurant. Sit back and relax as you enjoy a leisurely meal.
For table bookings please use the 'Book a table' link below.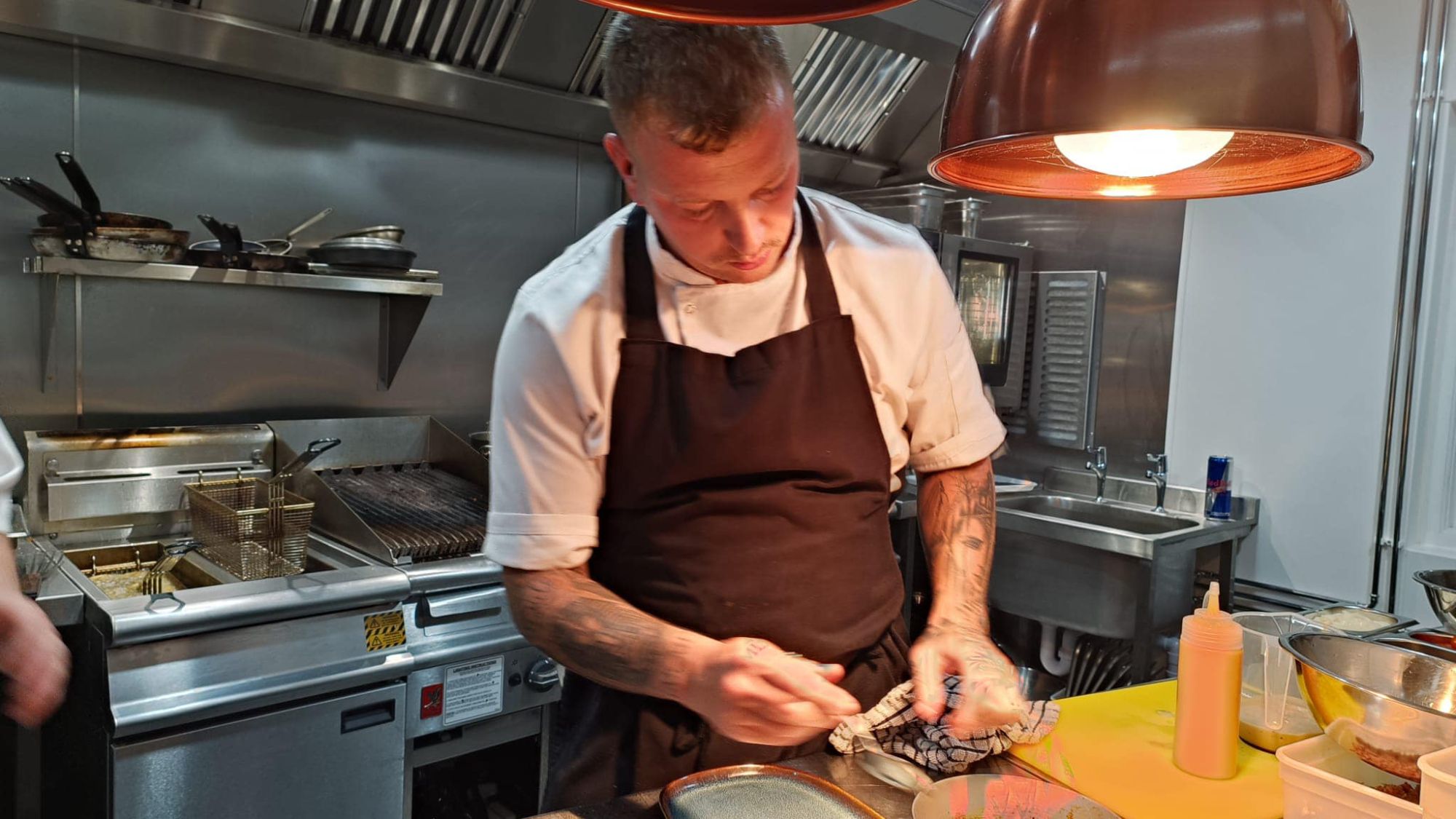 Head Chef Matt grew up in the Welsh Valleys, he worked as a chef for over 14 years in Cardiff. Employed at prestigious hotels, he worked under a Michelin star chef and gained a huge amount of experience in the creation of menus. He loves fine cookery, but also loves catering for large parties & working in a busy kitchen. As Head chef of the Wallace Steak house and The Greyhound Inn, he now gets the best of both worlds with the busy day to day running of a 180-seater popular country pub as well as the more intimate restaurant here at The Wallace.
To browse table availability please use the online reservation link below.
Whatever your tastes and dietary requirements, our chefs can't wait to give you a dining experience of the very highest order.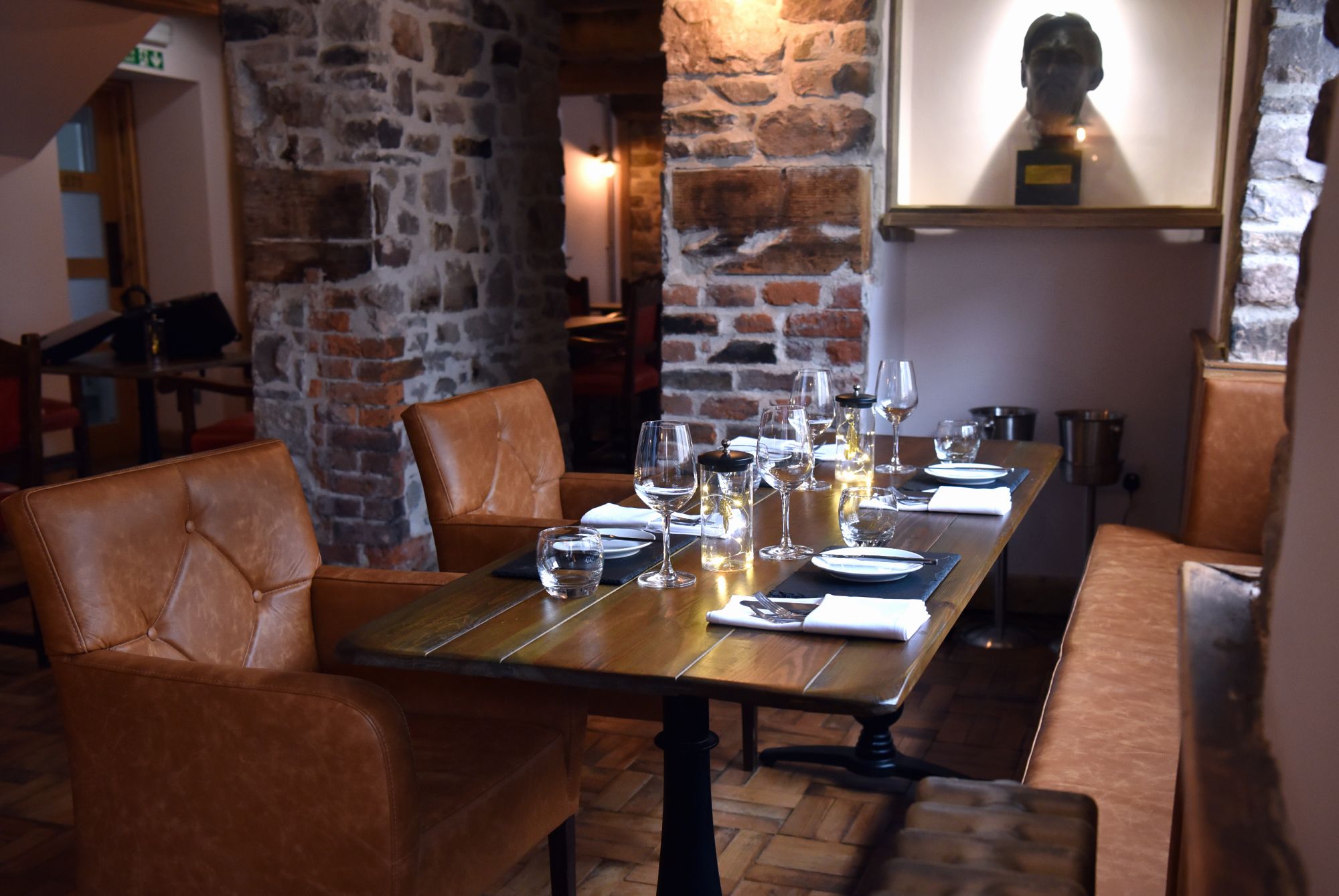 Pan seared scallops with crushed peas, red chilli, pancetta crumb
Hoisin glazed sticky duck, toasted sourdough, guacamole
BBQ boneless pork ribs, pickled walnuts, Asian slaw
Paprika hummus, flat bread, rocket, pine nuts dressing
Wallace soup of the day, cursty bread, sea salt butter
Pan fried salmon, crushed spinach potatoes, tender stem broccoli, lemon hollandaise
Wallace 'fish & chips', triple cooked chips, crushed peas, burnt lemon & cajun tartare
Thyme roasted chicken supreme, pumpkin & butternut squash cassoulet, fondant potato, pancetta red wine
Welsh beef burger, red onion jam, lemon mayo, slaw, rocket, melted cheese, triple cooked chips & onion rings
Beetroot burger, red onion jam, lemon mayo, slaw, rocket, melted cheese, triple cooked chips & onion rings (v) or (ve)
Roasted butternut squash gnocchi, chargrilled pumpkin, parmesan, pine nuts & rocket
Fillet 8oz - £36
Ribeye 10oz - £34
Sirloin 10oz - £33
Chateaubriand 16oz - £65 (serves 2)
Dauphinoise
Beef fat dripping fondant
Triple cooked chips
Baby new potatoes
Peppercorn
Bearnaise
Pancetta red wine
Garlic butter
Blue cheese
Sticky Toffee Pudding, Sea Salt Caramel Sauce & Honeycomb ice-cream
Apple Cinnamon Crumble, Brown glazed Oats, & Penderyn Whisky Custard
Welsh Cheese Board – 5 local cheeses served with a sweet red onion chutney, celery, Grapes & Crackers
Affogato classic vanilla ice cream soaked in espresso coffee, shortbread biscuit
A place full of history to sit and enjoy amazing food
Alfred Russel Wallace is one of the most famous people to ever come out of Usk. He was born in Usk on the 8th of January 1823 and died on the 7th of November 1913. He was a British naturalist, explorer, geographer, anthropologist, biologist and illustrator. So in other words he was the David Attenbourgh of his day. Alfred is best known for conceiving the theory of evolution, however his great friend Darwin then quickly wrote an abstract of his own book the "big species book" and published the "On the Origin of Species" in 1859 and therefore took the credit. However... they both died great friends!